Family owned and operated, Woodsmith Construction is a fully licensed and insured Toronto home design and build company. Since 2001, we have taken part in revitalizing, reshaping and rebuilding Toronto homes, enriching the lives of many families, and communities along the way. During this time, we've solidified our reputation for excellence in customer service and quality workmanship. We offer a full range of services including design/build, home renovations, additions, restorations, and custom homes. Our success stems from our deep desire to create spaces that are not only stunning but inspiring, practical and functional. We strive to help our clients achieve the full potential of their homes, ensuring that their dream home becomes a reality.
Woodsmith Construction, along with our close-knit family of highly dedicated professionals comprised of designers, suppliers and expert tradesmen, are ready to deliver on our promise of quality craftsmanship. From concept to completion, you can rest assured that every aspect of your project will be carefully considered and meticulously executed, ensuring that your project meets your goals and exceeds your expectations. We understand that a house is the single most expensive investment one could make, which is why we treat each home as if it were our very own. The wealth of experience we bring to each project provides invaluable guidance to those who find the complex process of any construction project a daunting and overwhelming endeavor. Let us help navigate your journey to make the experience a pleasant and enjoyable one. A journey that ends with realized dreams, and house that stands the test of time.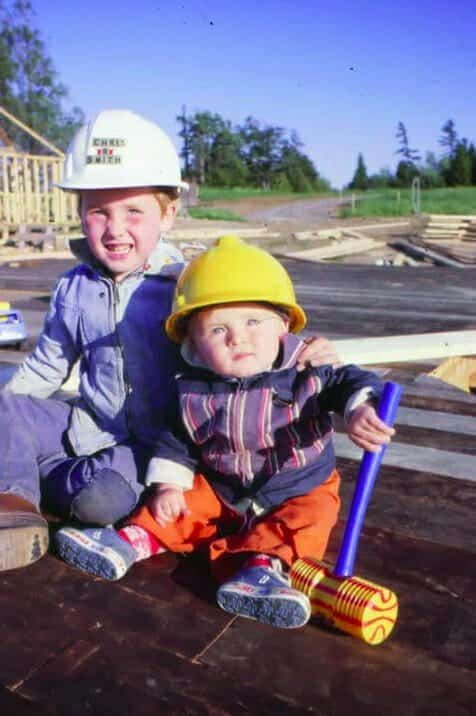 Our Philosophy
Our philosophy is centered around three key tenets, all of which remain a constant in every part of what we do. They are Expertise, Accountability and Transparency. Although each has its own importance, it is only when they are applied together that the end result always exceeds expectations.
Expertise
 Our expertise is the foundation on which our whole philosophy is based. We have spent many years designing and building homes through out Toronto and it is our high level of experience that provides our customers with a wealth of knowledge on what works and what doesn't. Whatever the situation or circumstances provide on any of our projects, we have seen and dealt with before so we know what to do.
Accountability 
At the heart of our philosophy is our accountability as nothing would work with our clients if we're not accountable for the information we provide them. We always have credible explanations, costings and opinions for every design or building option we give. Our accountability is rooted in giving consistent information through any projects progress. Our clients rely on us to have their best interests and we make sure that we keep them informed at all times. Right from our initial consultation to well beyond the completion of any of our homes, we always are there to answer any questions. We believe that a happy client is one that knows they can ask about anything to do with their project and get a straight forward answer, at anytime. Our accountability is rooted in our belief that timely, consistent information is the key to keeping everyone happy.
Transparency 
Trust is not something that is given so much as it is something to be earned. We believe that the best way to earn that trust is through complete transparency. By showing everything from previous project costs used to form a budget, to the actual amounts spent on a project daily. Thus giving our clients the ability to have a clear financial picture for their project at all times. We believe straight forward, concise information empowers better decision making throughout any project and better decisions always lead to the best results. Our commitment to complete transparency, rewards our customers with the knowledge that their dollars have been spent wisely.
Better Service
We are a Toronto home builder that believes in doing the job right the first time. This by no means, is an easy task and there are no shortcuts in getting the job done right. The only way we have been able to achieve a consistent level of finish product and outstanding customer service, is with an open, accountable and transparent approach. We believe that armed with accurate information people make better choices, which allows us to build better homes for our clients, that never fall short of expectations. 
Better Value
Value is defined as something having worth or to be of value. The meaning of value to our clients is in having a different story to tell. When sharing their new home with friends and family, they talk about the great experience they had, which usually is in stark contrast to the norm that everyone expects to hear. Our clients often begin with a less than optimistic view of what building or renovating a home entails, but they finish with an enriched understanding and appreciation of everything that we put into making their home a great one.
Better Relationships
 With almost two decades of building homes for Toronto families, we have had the great fortune of being an important part of their lives. Our passion is to build the best homes for the families that live in them and we continue to be motivated by the meaningful connections created from each and every home we build. Our customer relationship extends well beyond the completion of their project. We are always there to make sure the homes we built, continue to function the way they were meant to. The reward for building better relationships comes from knowing we have helped families make their dream homes a reality and seeing the joy that new reality brings.
Our Latest News
We are thrilled to announce that we've been selected as one of the top 10 General Contractors in Toronto by BlogTO! BlogTO […]
See all our news